We're Wanted and Found – a design, marketing and communications agency.
We are experienced in all areas of business from small independents to national and international companies. No job too small is a phrase we don't like to use, because every job is important to us.
Put simply if you want creative, then you've found it.
---
Check out what some of our clients think…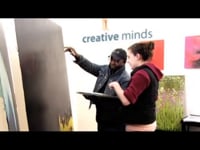 Ian Bennett – Strategic Communications Manager, Wolverhampton City Council
"One of the things that attracted us to Wanted and Found was the vast range of projects they're involved in.

I've had the opportunity to work closely with Mike from Wanted and Found for a number of years on a variety of different campaigns and have never failed to be impressed – not just with the quality of his ideas, but with the way he delivers on his promises.

Most recently, Wanted and Found developed an inward investment campaign for Wolverhampton. As well as all the printed collateral, exhibition and promotional work, they produced two films that our Economic Development team use to promote the city to global audiences.

When I say 'produced', I don't mean 'procured' from someone else. We gave them the brief and Wanted and Found gave us the full package – concept and storyboards, art direction, shooting and editing.  It was a difficult brief creatively, logistically and in terms of managing relationships among the different organisations involved.  Wanted and Found handled all of this with aplomb – and delivered a brilliant solution"
---
Matt Goulding Manager, Wolverhampton Credit Union
"We commissioned Wanted and Found to deliver a new brand identity for Wolverhampton City Credit Union. With our professional, exciting look including building signage, advertising, new website design and social media channels – we now feel like a new business! They even led on the print and managed all of the planning. With Wanted and Found you're in very safe hands." See the new website here