Wanted and found have many customers from all types of business. We get involved in all areas of design, marketing and communications as these projects show…
Wolverhampton Inward Investment Campaign
Wanted and Found were approached to produce a major, multi-layered design, marketing and communication campaign to generate investment into the City of Wolverhampton. This large scale campaign started with the development of an 'umbrella brand', encompassing the business champions of the city from companies including Handelsbanken, UTC Aerospace and the University of Wolverhampton. Under this single brand, Wanted and Found developed promotion material included brochures, advertising, stationery, exhibition design and several promotional films.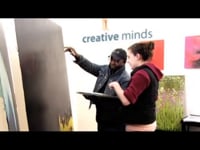 ---
Axiom Ticketing Brand Refresh
Axiom are a successful online ticket software suppliers who tailor their product to individual businesses. They recently helped deliver thousands of ticket sales to the legendary Billy Smarts Circus whilst touring the UK and are looking forward to a very busy future. Axiom came to wanted and Found for a brand refresh including new business cards and website banners.
Find out more about Axiom at axiomticketing.com
---
Make Shift – an ideas factory!

Wanted and Found were proudly involved in the first of the 'idea generation events' in Wolverhampton. Make Shift was a workshop-style event, first held in 2012 and is still going strong today. It encourages ideas from all over the city. Through social media Make Shift brings people together to make the ideas happen. It has had many community successes to date, including some great social enterprises that have been helped to gain funding and support through the MakeShift network.
Wanted and Found developed the brand, advertising, social media, promotional films and event organisation. We also developed the marketing, planning and communications for the event.
Find out more and get involved at facebook.com/makeshiftevent
---
Teenage Pregnancy Prevention Campaign

NHS Midlands approached Wanted and Found as part of their awareness campaign into teenage pregnancy. We spent a lot of time with the NHS, Primary Care Trust Wolverhampton and their support groups, including teenagers who had experienced the changes to their life through early pregnancy. It was a pleasure to be involved in such a difficult yet rewarding program of work. By working closely with these groups we were able to establish one common thread to teenage pregnancy and we carried that foreword into the campaign. As a result the number of reported teenage pregnancies fell by over 22 per cent in a year, the biggest drop registered by any authority at any time.
Wanted and Found were involved in the campaign planning, marketing and communications. We also produced the advertising across all printed and digital media, a social media campaign and promotional/help and information leaflets.
---
Exclusive Housing Developments

Wanted and Found were asked to produce several artists impressions of an exclusive barn conversion development in the heart of Staffordshire. The independent developer approached Wanted and found at the planning stage and wanted to produce promotional brochures to market the houses and advertise to prospective buyers.
Wanted and Found produced a series of artist impressions, press advertising and promotional brochures for the developer.
---
There are aliens in My Library!
Libraries have changed in recent years. Gone are the times of being told to Shhhhh! Wolverhampton Library Service approached Wanted and Found for a new brand position and to redesign several community library branches. It was clear from our research that one thing that united the library users of all ages was a sense of ownership. Each member used their library in a different way, but all in ways just as important as each other. We quickly concluded that the My Library brand was the way to go, and developed a series of fun, lifestyle graphics to boost the usage of the library. Members were encouraged to go surfing, find dinosaurs or change their career in 'their library' – a far cry from lending books!
Wanted and Found produced a new brand, interior design, advertising, social media and web presence,  membership packs and office templates.
---
---
We look forward to working with you!
---
---